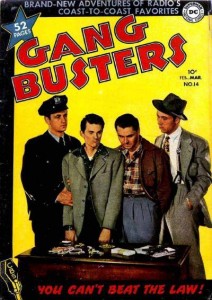 Gang Busters was an American dramatic radio program proclaimed as "the only national program that brings you authentic police case histories." Sponsored by Chevrolet, It premiered originally on July 20th 1935 as the G-Men.
The title was changed to Gang Busters on January 15th 1936. The show ran for over 21-years, until November 20th 1957.
Beginning with a barrage of loud sound effects – a shrill police whistle, convicts marching in formation, police sirens wailing, machine guns firing, and tires squealing – this intrusive introduction led to the popular catchphrase "came on like Gang Busters" – followed by a voice over a megaphone or loudspeaker announcing the title of that night's program: "Tonight, Gangbusters presents the Case of the —" and ending with more blasts from a police whistle.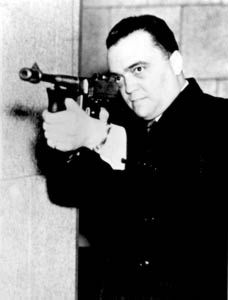 The series dramatized real FBI cases, which producer-director Phillips H. Lord arranged in close association with Bureau director J. Edgar Hoover. Hoover insisted that only closed cases would be used.
The initial series was on NBC Radio from July 20 to October 12, 1935. It then aired on CBS from January 15th 1936 to June 15th 1940 and was sponsored by Colgate-Palmolive and Cue magazine.
From October 11th 1940 to December 25th 1948, it was heard on the Blue Network, with various sponsors that included Sloan's Liniment, Waterman Pens and Tide. Returning to CBS on January 8th 1949, it ran until June 25, 1955, sponsored by Grape-Nuts and Wrigley's chewing gum. The final series was on the Mutual Broadcasting System from October 5, 1955 to November 27, 1957. It was once narrated by Norman Schwarzkopf, Sr., former head of the New Jersey State Police.

Gang Busters – (14/07/1944) The Case Of The Costumed Killer
The Little Rock Arkansas police go after a hardened criminal who has been teaching kids to be crooks like himself.
The Case Of The Costumed Killer
The radio series was adapted for DC Comics and Big Little Books. Universal Pictures made a very popular Gang Busters movie serial in 1942, starring Kent Taylor and Ralph Morgan. The 1952 Gang Busters TV series was reedited into two feature films, Gang Busters (1955, with Myron Healey as Public Enemy No. 4) and Guns Don't Argue (1957, with Healey as John Dillinger).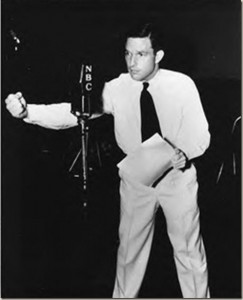 Phillips Haynes Lord (1902-1975), was only in his twenties when he achieved nationwide fame for his radio programs, the most famous being "Gangbusters" and several other shows dealing with the "Seth Parker" a character he created. "Seth Parker" was based on Lord's own grandfather, Hosea Phillips. "Seth Parker" was a clergyman and rural philosopher of Jonesport, Maine. The show was an instant hit, and included a musical component. Books and gospel records from the show were sold, and in 1931 a feature film Way Back Home was released, starring Lord and Bette Davis.
In June of 1934, Lord embarked on a voyage for the South Pacific on a schooner renamed the Seth Parker, sponsored by Frigidaire. Broadcasts were aired via short wave radio and then retransmitted by NBC while the ship made stops along the eastern seaboard.
Unfortunately, the crew found themselves caught in a tropical storm near Tahiti in February of 1935 and had to curtail their trip as their boat became too damaged to continue. Lord went on to create at least fifteen other programs.
Lord died on the 19th October 1975 and is buried in Ellsworth, County Maine, USA.
Gang Busters can be heard on Crime Central.
[amazon_link asins='B000001MD1,1526731533,B00CVA7TQU' template='ProductGrid' store='zonwebsea-21′ marketplace='UK' link_id='5c06e5a7-aa0e-11e8-9795-5b2b656bad72′]