Is this a copycat KFC recipe or is it actually much closer to the real thing? Recently the Chicago Tribune published an article where they had interviewed a nephew of Colonel Harland Sanders, the founder of the Kentucky Fried Chicken franchise.
The nephew, Joe Lexington, produced a family photo album during the interview that belonged to his aunt, Claudia. She just happened to be the second wife of the Colonel Sanders. At the end of the album is a copy of her will, attached to that was a handwritten recipe with 11 herbs and spices to be added to plain flour.
Interview with Harland Sanders, 1977
Since the ingredients are mostly commonplace, I believe the high volume of herbs and spices is actually the real key to Colonel Sanders secret recipe.
This recipe makes enough coating for approximately 3.5 kilograms (8lbs) of chicken portions. If you make smaller batches the remaining coating can be frozen or stored in an airtight container as long as it has not been in contact with the chicken!
Ingredients
250 grams of plain white flour
2 tsp table salt
1 1/2 tsp dried thyme
1 1/2 tsp dried basil
4 Tbsp paprika
1 tsp dried oregano
1 Tbsp celery salt
2 Tbsp garlic salt
1 Tbsp black pepper
1 Tbsp dry mustard powder
3 Tbsp white pepper
1 Tbsp ground ginger
1 Tbsp MSG, optional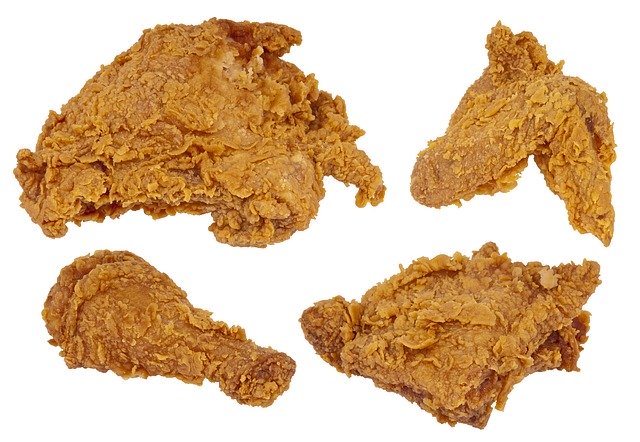 Instructions
Mix all of the herbs and spices together first, making sure there are no lumps in the mixture from spices that have clumped in storage.
In a large bowl, add the herb & spice mixture to the flour and mix well until the spices are evenly distributed.
Dip each chicken piece in plain water, shake and dredge in the flour and spice mixture. Repeat for all of the remaining pieces. Leave the pieces to sit in the dredge for 10-15 minutes while the oil heats up. This will help the coating stick to the chicken better.
Preheat a vegetable oil filled deep fryer to 170 degrees C (340F)
Shake off the excess coating from the chicken pieces and fry for up to 18 minutes for the largest pieces. Wings generally take 8-10 minutes, drumsticks about 12-15 minutes depending on size. I use a meat thermometer to test the pieces and remove them individually when they reach an internal temperature of 83 degrees Celsius (180 F)
Place cooked pieces on a rack that has been placed on top of baking paper.
Keep the cooked chicken warm in a 70 degrees celsius (150 F) oven if you need to cook the chicken in multiple batches. In that Case I always start with the latest pieces and end with the smallest to minimize the time in the oven.
Copycat KFC Recipe? Is this the Real Deal?