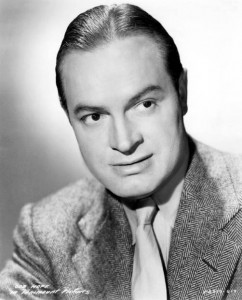 The facts surrounding the multi-decade, multi-generational success of Bob Hope are irrefutable. He was a resounding success — a true star — on the Broadway stage, in movies, on radio, and television, staying with NBC in the latter two ventures for over half-a-century. He appeared in over 70 movies in a film career that spanned four decades. He logged over six million miles entertaining troops in both war and peace time, becoming a goodwill ambassador to every country he traveled to. He became an American show business icon and perhaps one of the richest entertainers this country ever produced, the cable and video age notwithstanding.
Bob Hope, KBE, KCSG, KSS (born Leslie Townes Hope; May 29, 1903 – July 27, 2003) was a British-born American comedian and actor who appeared in vaudeville, on Broadway, and in radio, television and movies. He was also noted for his work with the US Armed Forces and his numerous USO shows entertaining American military personnel. Throughout his long career, he was honored for his humanitarian work. In 1996, the U.S. Congress honored Bob Hope by declaring him the "first and only honorary veteran of the U.S. armed forces."
[ngg_images source="galleries" container_ids="1″ display_type="photocrati-nextgen_basic_thumbnails" override_thumbnail_settings="0″ thumbnail_width="240″ thumbnail_height="160″ thumbnail_crop="1″ images_per_page="20″ number_of_columns="0″ ajax_pagination="0″ show_all_in_lightbox="0″ use_imagebrowser_effect="0″ show_slideshow_link="1″ slideshow_link_text="[Show slideshow]" order_by="sortorder" order_direction="ASC" returns="included" maximum_entity_count="20″]
Hope was born in Eltham, London, England, the fifth of seven sons. His English father, William Henry Hope, was a stonemason from Weston-super-Mare, Somerset, and his Welsh mother, Avis Townes, was a light opera singer from Barry, a small town outside Cardiff, Wales. The family emigrated to the United States aboard the SS Philadelphia, and passed inspection at Ellis Island on March 30, 1908. Hope became a U.S. citizen in 1920 at the age of 17.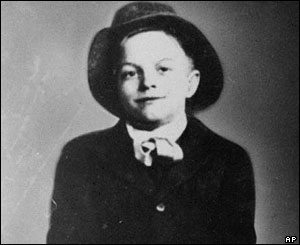 From the age of 12, Hope worked at a variety of odd jobs at a local boardwalk. He would busk, doing dance and comedy patter to make extra money (frequently on the trolley to Luna Park). He entered many dancing and amateur talent contests (as Lester Hope), and won prizes for his impersonation of Charlie Chaplin. Hope also boxed briefly and unsuccessfully under the name Packy East (after the popular Packey McFarland), once making it to the semifinals of the Ohio novice championship.
Silent film comedian Fatty Arbuckle saw one of Hope's performances with his first partner, Lloyd "Lefty" Durbin, and in 1925 got the pair steady work with Hurley's Jolly Follies. Within a year, Hope had formed an act called the Dancemedians with George Byrne and the Hilton Sisters, conjoined twins who had a tap dancing routine. Hope and his partner, George Byrne, had an act as a pair of Siamese twins as well, and both danced and sang while wearing blackface, before friends advised Hope that he was funnier as himself. In 1929, he changed his first name to "Bob". In one version of the story, he named himself after racecar driver Bob Burman. In another, he said he chose Bob because he wanted a name with a friendly "Hiya, Fellas!" sound to it.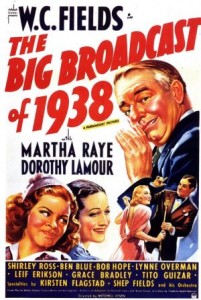 Hope, like other stage performers, made his first films in New York. Educational Pictures employed him in 1934 for a short-subject comedy, Going Spanish. Hope sealed his fate with Educational when Walter Winchell asked him about the film. Hope cracked, "When they catch John Dillinger, they're going to make him sit through it twice." Educational fired him, but he was soon before the cameras at New York's Vitaphone studio starring in 20-minute comedies and musicals from 1934 through 1936, beginning with Paree, Paree (1934).
Paramount Pictures signed Hope for the 1938 film The Big Broadcast of 1938, also starring W. C. Fields. During a duet with Shirley Ross as accompanied by Shep Fields and his orchestra, Hope introduced the song later to become his trademark, "Thanks for the Memory", which became a major hit and was praised by critics.
Hope became one of Paramount's biggest stars, and would remain with the studio through the 1950s. Hope's regular appearances in Hollywood films and radio made him one of the best known entertainers in North America, and at the height of his career he was also making a large income from live concert performances. He was both a world-class singer and dancer, introducing many major songs during the course of his career, including the Oscar-winning "Buttons and Bows" in The Paleface (1948), his biggest hit song by far, and he matched James Cagney's bravura dancing during the tabletop showdown sequence in The Seven Little Foys (1955).

Bob Hope and the Clark Sisters – Button & Bows (October 14, 1948)

//pumpkinfm.com/wp-content/uploads/2012/04/Buttons-and-Bows-Bob-Hope-Jane-Russell-The-Paleface-1948.mp3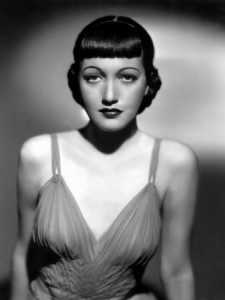 As a movie star, he was best known for comedies like My Favorite Brunette and the highly successful "Road" movies in which he starred with Bing Crosby and Dorothy Lamour. Hope had seen Lamour as a nightclub singer in New York, and invited her to work on his USO tours. Lamour is said to have arrived for filming prepared with her lines, only to be baffled by completely re-written scripts from Hope's writers without studio permission. Hope and Lamour were lifelong friends, and she remains the actress most associated with his film career. The series consists of Road to Singapore (1940), Road to Zanzibar (1941), Road to Morocco (1942), Road to Utopia (1946), Road to Rio (1947), Road to Bali (1952), and The Road to Hong Kong (1962). Hope's other leading ladies included Paulette Goddard, Katharine Hepburn, Hedy Lamarr, Lucille Ball, Jane Russell, Betty Grable, Betty Hutton, Arlene Dahl, Rosemary Clooney, Eva Marie Saint, Rhonda Fleming, Lana Turner, Anita Ekberg, and Elke Sommer.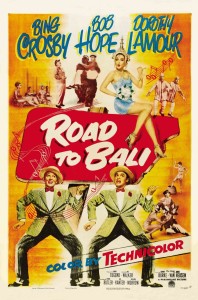 Hope's informal teaming with Bing Crosby for the seven "Road" pictures from 1940 to 1962 and countless stage, radio, and television appearances together over the decades were critically important to Hope's career. At the beginning of the "Road" series, Broadway star Hope was relatively little known nationally compared to Crosby, and was actually billed under Dorothy Lamour in the first film, while Crosby had already been a hugely popular singer and movie star for years. After the release of Road to Singapore (1940), Hope's screen career immediately became white hot and stayed that way for over two decades, actually continuing until Cancel My Reservation (1972), his last theatrical starring role. Bing Crosby and Bob Hope became linked in public perception to the extent that it became difficult to think of one without the other even though they actually conducted predominately separate careers. They had planned one more movie together, The Road to the Fountain of Youth, until Crosby's demise abruptly intervened.

Great Dance Routine: James Cagney and Bob Hope – Movie: The Seven Little Foys (1955)
Hope starred in fifty-two theatrical features altogether between 1938 and 1972, not to mention cameos and short films, and frequently stated that his movies were the most important part of his career. Some notable examples include College Swing (1938; with George Burns, Gracie Allen, and Betty Grable), Some Like It Hot (1939; with Shirley Ross and Gene Krupa), The Ghost Breakers (1940, with Paulette Goddard), The Paleface (1948; with Jane Russell), Sorrowful Jones (1949; with Lucille Ball), The Seven Little Foys (1955; with James Cagney as George M. Cohan), The Iron Petticoat (1956; with Katharine Hepburn), and Beau James (1957; with Hope as James J. Walker).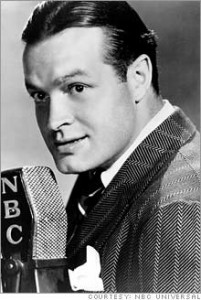 Hope first appeared on television in 1932 during a test transmission from an experimental CBS studio in New York. In January 1947, Hope was master of ceremonies for the first telecast by California's first television station, KTLA. His career in broadcasting spanned 64 years and included a long association with NBC.
Hope made his network radio debut in 1937 on NBC. His first regular series for NBC Radio was the Woodbury Soap Hour. A year later, The Pepsodent Show Starring Bob Hope began, continuing as The New Swan Show in 1948 (for the same sponsor, Lever Brothers). After 1950, the series was known simply as The Bob Hope Show, with Liggett & Myers (1950–52), General Foods (1953) and American Dairy Association (1953–55) as his sponsors, until it finally went off the air in April 1955.

The Bob Hope Show (Pepsodent) with guest Frank Sinatra (1945)

//pumpkinfm.com/wp-content/uploads/2012/04/bob-hope-39-55-46-01-29-288-guest-frank-sinatra.mp3
In October 1996, Hope announced, via a press release, that he was ending his 60-year contract with NBC, joking that he "decided to become a free agent". His final television special, Laughing with the Presidents, was broadcast in November 1996, with Tony Danza helping Hope present a personal retrospective of presidents of the United States known to the comedian. The special received mixed reviews, mostly due to the weakening appearance and speech of the 93-year old Hope. Bob Hope's last TV appearance was in a 1997 K-Mart commercial directed by Penny Marshall.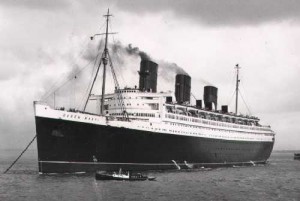 Hope's first wartime performance occurred at sea. Aboard the RMS Queen Mary when World War II began in September 1939, he went to the captain to volunteer to perform a special show for the panicked passengers, during which he sang "Thanks for the Memory" with rewritten lyrics. Hope performed his first United Service Organizations (USO) show on May 6, 1941, at March Field, California. He continued to travel and entertain troops for the rest of World War II and later during the Korean War, the Vietnam War, the third phase of the Lebanon Civil War, the latter years of the Iran–Iraq War, and the 1990–1991 Persian Gulf War. When overseas he almost always performed in Army fatigues as a show of support for his audience. Hope's USO career lasted half a century, during which he headlined approximately 60 tours. For his service to his country through the USO, he was awarded the Sylvanus Thayer Award by the United States Military Academy at West Point in 1968.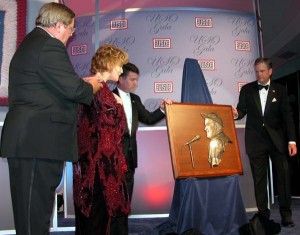 A 1997 act of Congress signed by President Clinton named Hope an "Honorary Veteran." He remarked, "I've been given many awards in my lifetime — but to be numbered among the men and women I admire most — is the greatest honor I have ever received."
Hope appeared in so many theaters of war over the decades that it was often cracked (in Bob Hope style) that "Where there's death, there's Hope".
As Hope entered his ninth decade, he showed no signs of slowing down and continued appearing in numerous television specials. He was given an 80th birthday party in 1983 at the Kennedy Center in Washington, D.C. which was attended by President Ronald Reagan. In 1985, he was presented with the Life Achievement Award at the Kennedy Center Honors. He was presented with the Ronald Reagan Freedom Award in 1997 by Nancy Reagan. The following year, Hope was appointed an honorary Knight Commander of the Most Excellent Order of the British Empire by Queen Elizabeth II. Upon accepting the appointment, Hope quipped, "I'm speechless. 70 years of ad lib material and I'm speechless."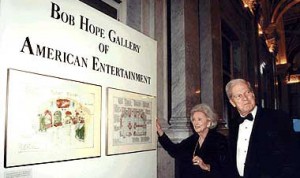 At the age of 95, Hope made an appearance at the 50th anniversary of the Primetime Emmy Awards with Milton Berle and Sid Caesar. Two years later, Hope was present at the opening of the Bob Hope Gallery of American Entertainment at the Library of Congress. The Library of Congress has immortalized Bob Hope's life with two major exhibitions – "Hope for America: Performers, Politics and Pop Culture" and "Bob Hope and American Variety." Hope celebrated his 100th birthday on May 29, 2003. He is among a small group of notable centenarians in the field of entertainment. To mark this event, the intersection of Hollywood and Vine in Los Angeles, California was named Bob Hope Square and his centennial was declared Bob Hope Day in 35 states. Even at 100, Hope was said to have maintained his self-deprecating sense of humor, quipping, "I'm so old, they've canceled my blood type." He converted to Roman Catholicism.
Hope had premature obituaries on two separate occasions. In 1998, a prepared obituary by The Associated Press was inadvertently released on the Internet, prompting Hope's death to be announced in the U.S. House of Representatives. In 2003 he was among several famous figures whose pre-written obituaries were published on CNN's website because of a lapse in password protection.
Beginning in 2000, Hope's health steadily declined and he was hospitalized several times before his death. In June 2000, he spent nearly a week in a California hospital after being hospitalized for gastrointestinal bleeding. In August 2001, he spent close to two weeks in the hospital recovering from pneumonia.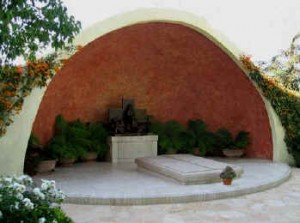 On July 27, 2003, Bob Hope died at his home in Toluca Lake at 9:28 p.m. According to the Soledad O'Brien interview with Hope's grandson Zach Hope, when asked on his deathbed where he wanted to be buried, Hope told his wife, "Surprise me." He was interred in the Bob Hope Memorial Garden at San Fernando Mission Cemetery in Los Angeles, where his mother is also buried.