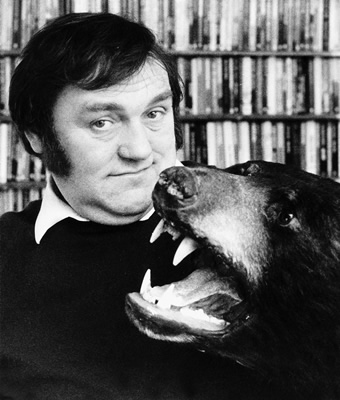 Leslie "Les" Dawson was an extremely popular English comedian remembered for his deadpan style, curmudgeonly persona and jokes about his mother-in-law and wife.
His career as an entertainer began as a pianist in a Parisian brothel, that is if you are to believe his very entertaining but factually unreliable autobiography.
Even though he was an accomplished pianist, he found that he got laughs by playing wrong notes and complaining to the audience.
He made his television debut on the talent show Opportunity Knocks in 1967 and became a prominent comic on British television and radio for the rest of his life.
Before his fame, Les Dawson wrote poetry but kept it secret. It was not expected that someone of his working class background would harbour such literary ambitions. In a BBC TV documentary about his life, he spoke of his love for some canonical figures in English literature, in particular the 19th Century essayist Charles Lamb, whose somewhat florid style influenced Dawson's own.
His love of language influenced many of his comedy routines – for example one otherwise fairly routine joke began with the line "I was vouchsafed this vision by a pockmarked Lascar in the arms of a frump in a Huddersfield bordello…" He was also a master of painting a beautiful word picture and then letting the audience down with a bump: "The other day I was gazing up at the night sky, a purple vault fretted with a myriad points of light twinkling in wondrous formation, while shooting stars streaked across the heavens, and I thought: I really must repair the roof on this toilet."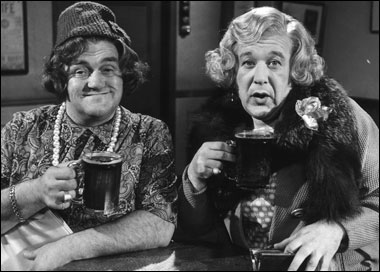 Dawson wrote many novels but was always regarded solely as an entertainer in the public imagination, and this saddened him. He told his second wife, Tracey, "Always remind them – I was a writer too".
Having broken his jaw in a boxing match, Dawson was able to pull grotesque faces by pulling his jaw over his upper lip. This incident is described in the first volume of Dawson's autobiography A Clown Too Many.
He was married to Margaret from 25 June 1960 until her death on 15 April 1986 from cancer. They had had three children: Julie, Pamela and Stuart. He married Tracy on 6 May 1989, despite worries that his show-business contemporaries and the public would object, as she was 17 years younger. They had a daughter, Charlotte, who was born on 3 October 1992.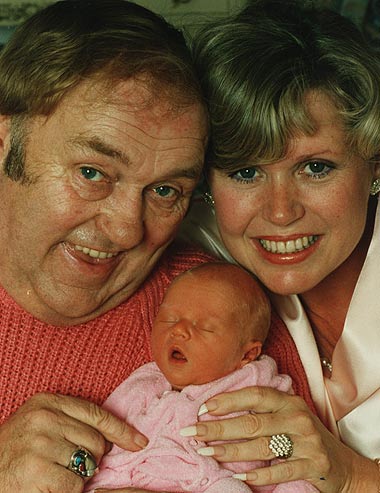 Dawson starred in a radio sketch show Listen to Les, which was broadcast on BBC Radio 2 in the 1970s and 1980s. Television series in which he appeared included Sez Les for Yorkshire Television, The Dawson Watch for the BBC, written by Andy Hamilton and Terry Ravenscroft, The Les Dawson Show, written by Terry Ravenscroft, Dawson's Weekly, Joker's Wild (1969–73) and the quiz show Blankety Blank, which he presented for some years. His final TV appearance was on the LWT series Surprise, Surprise hosted by Cilla Black, when he sang a comical rendition of "I Got You Babe" with a woman from the audience who wanted to fulfil a wish to sing with him.
One of his last television appearances came on 23 December 1992, when he appeared as special guest in the TV guest show This Is Your Life – 21 years after previously appearing as the show's special guest, making him one of the few people to appear on the show twice.
On 10 June 1993, during a check-up at a hospital in Whalley Range, Manchester, Les Dawson died suddenly after suffering a heart attack. Many comedians and other celebrities attended a memorial service for him at Westminster Abbey on 24 February 1994.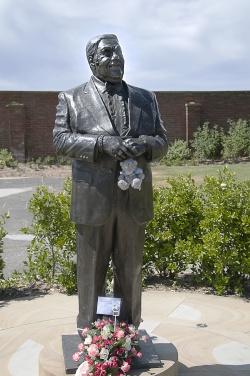 On 23 October 2008, 15 years after his death, a bronze statue of Dawson, by sculptor Graham Ibbeson, was unveiled by his widow Tracy and daughter Charlotte. The statue stands in the ornamental gardens next to the pier in St-Anne's-on-Sea, Lancashire, where Dawson had lived for many years.
Classic Les Dawson Mother-in-Law Jokes
"I can always tell when the mother in law's coming to stay… the mice throw themselves on the traps."
"My mother-in-law said 'one day I will dance on your grave'. I said 'I hope you do, I will be buried at sea."
"My mother-in-law has come round to our house at Christmas seven years running. This year we're having a change. We're going to let her in."
A very funny, down to earth, lovely man missed by many.
Happy Listening 🙂