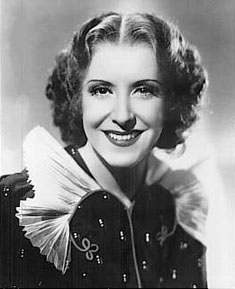 Grace Ethel Cecile Rosalie Allen (July 26, 1895 – August 27, 1964), known as Gracie Allen, was an American comedian who became internationally famous as the zany partner and comic foil of husband George Burns.
Gracie Allen was born in San Francisco, California, to George Allen and Molly Darragh, who were of Irish Catholic extraction. She made her first appearance on stage at age three and was given her first chance On Air by Eddie Cantor. She was educated at the Star of the Sea Convent School and during that time became a talented dancer. She soon began performing Irish folk dances with her three sisters, who were billed as "The Four Colleens." In 1909 Allen joined her sister, Bessie, as a vaudeville performer. At a performance in 1922 Allen met George Burns and the two formed a comedy act. The two were married on January 7, 1926, in Cleveland, Ohio.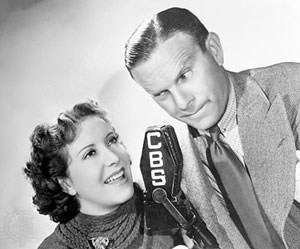 The Burns and Allen act began with Allen as the straight man, setting up Burns to deliver the punchlines — and get the laughs. In his book Gracie: A Love Story Burns later explained that he noticed Allen's straight lines were getting more laughs than his punchlines, so he cannily flipped the act over —- he made himself the straight man and let her get the laughs. Audiences immediately fell in love with Allen's character, who combined the traits of stupidity, zaniness, and total innocence.
In the early 1930s, like many stars of their era, Burns and Allen graduated to radio. The show was originally a continuation of their original "flirtation act" (as their vaudeville and short film routines had been). Burns realized that they were simply too old for that material ("Our jokes were too young for us", he later remarked) and changed the show's format in the fall of 1941 into the situation comedy vehicle for which they are best remembered: a working show business married couple negotiating ordinary problems caused by Gracie's "illogical logic," usually with the help of neighbors Harry and Blanche Morton, and their announcer, Bill Goodwin.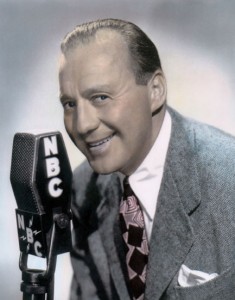 Around 1948 Burns and Allen became part of the CBS talent raid. Their good friend (and frequent guest star) Jack Benny had decided to jump from NBC over to CBS. William S. Paley, the mastermind of CBS, had recently made it openly clear that he believed talent and not the network made the difference, which was not the case at NBC. Benny convinced Burns and Allen (among others) to join him in the move to CBS. The Burns and Allen radio show became part of the CBS lineup and a year later they also brought their show to television. They continued to use the formula which had kept them longtime radio stars, playing themselves only now as television stars, still living next door to Harry and Blanche Morton. They concluded each show with a brief dialogue performance in the style of their classic vaudeville and earlier radio routines.
Allen retired in 1958, and Burns tried to soldier on without her. The show was re-named The George Burns Show with the cast intact except for Allen. The locale of the show was changed from the Burns home to George Burns' office, with Blanche Morton working as Burns' secretary so she could help Allen keep an eye on him. Allen's absence was only too obvious and impossible to overcome. The renamed show barely lasted a year.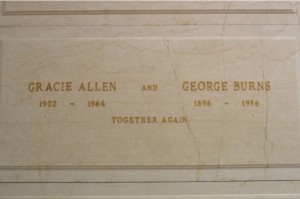 Gracie Allen fought a long battle with heart disease, ultimately dying of a heart attack in Hollywood in 1964. She was interred in a crypt at the Freedom Mausoleum at Forest Lawn Memorial Park in Glendale, California.
Burns was interred at her side when he died 32 years later. ("Gracie Allen and George Burns—Together Again," reads the engraving on the marker.

Burns & Allen – Gracie treats George like a King (15th May, 1947)
470515_Gracie_treats_George_like_a_King
Burns & Allen – Francis Langford – Vacation Plans (29th May, 1947)
470529_Francis_Langford__Vacation_Plans