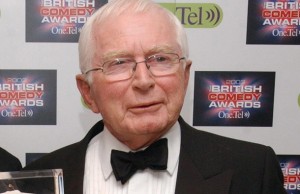 David Croft, co-writer and producer of classic comedies including 'Allo 'Allo and Hi-de-Hi has died at the age of 89, his family has announced.
He died peacefully in his sleep at his home in Portugal. His family called him a "truly great man" in a statement.
Croft's military sitcoms It Ain't Half Hot Mum and Dad's Army, written with Jimmy Perry, were hits in the 1970s.
He is also credited with Are You Being Served and its 1990s spin-off Grace and Favour.
Actor Melvyn Hayes, one of the stars of It Ain't Half Hot Mum, called Croft a "genius" and said it was "a privilege to work with" him.
"There were no swear words in his shows. His programmes were the kind of thing you could sit in front of the TV and watch with your grandmother and grandchildren," he told the BBC.
Welsh actress Ruth Madoc, who played Gladys Pugh in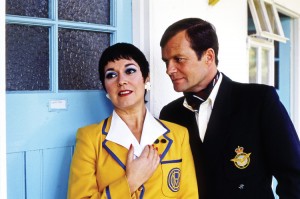 , also paid tribute to the writer.
" He just knew what tickled people, what made people smile"
Ian Lavender, Private Pike in Dad's Army stated:
"He taught us so much, that was the great thing about him," she told the BBC News Channel.
"He'd let you look in the camera lens and he'd teach you about that shot.
"He was a very, very clever man and not only did he do television but he slipped so easily into producing, writing and directing theatre, too."
Jon Plowman, former head of comedy at the corporation, said Croft "invented a whole genre of comedy that was all his own".
"The world is a less funny place for his going," he added.
Croft, who was awarded an OBE in 1978 for services to television, worked alongside Jeremy Lloyd on both the department store sitcom and wartime farce 'Allo 'Allo, which was set in Nazi-occupied France. Comedians and writers have taken to Twitter to post tributes. David Walliams wrote: "Such sad news," while Doctor Who writer Paul Cornell added: "His best monument is that his shows are still repeated."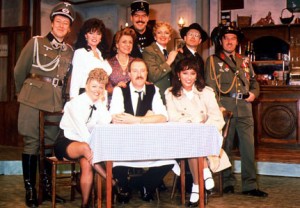 All of Croft's hits were produced for the BBC, the last being Oh, Doctor Beeching in 1993 – after which he retired from the corporation.
A decade later, Croft was honoured with a lifetime achievement award at the British Comedy Awards.
Croft was born as David John Sharland to stage actress Annie Croft and Reginald Sharland, a successful Hollywood radio actor.
He enlisted in the army during World War II, which was to provide some of his later comic inspiration for Dad's Army and It Ain't Half Hot Mum.
Dad's Army Wartime sitcom Dad's Army was one of Croft's most enduring creations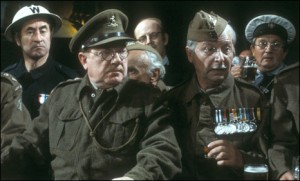 Dad's Army was the first of his series to come to TV screens, in 1968, and marked the start of his fruitful and long-lived comic partnership with Jimmy Perry.
The BBC initially had misgivings about the concept – which followed the fortunes of a Home Guard platoon, the last line of defence should the Germans have invaded Britain during World War II.
But the affection with which the characters were treated soon endeared the show to audiences and corporate bosses alike.
The series went on to gain the creative partnership a trio of awards from the Writers' Guild of Great Britain in 1969-71.
More than 40 years after it was first screened, the sitcom is still being shown.
Ian Lavender, who played the hapless Private Pike in the series said Croft was "a great comic writer".
"He just knew what tickled people, what made people smile," he told BBC News.
"I have never come across anyone in the Home Guard who said Dad's Army was a disgrace.
"They say they all had a Mainwaring in their platoon. We were laughing with them, not at them."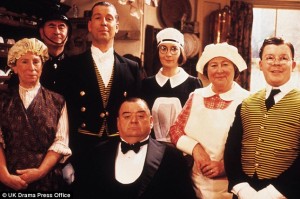 Among Croft's other achievements, he wrote scripts for numerous well-loved pantomimes and produced television shows in Hollywood and Australia.
The statement posted on his official website by his family added: "He was a truly great man, who will be missed by all who had the great fortune of knowing and loving him."
It added that he would have been "proud that you had all been watching", a nod to the tagline that appeared at the end of Croft's TV sitcoms.
The Genius that was David Croft
Are You Being Served
Dad's Army
It Ain't Half Hot Mum
Allo Allo
Hi de Hi
You rang, m'lord?
Dad's Army co-creator David Croft dies at home aged 89