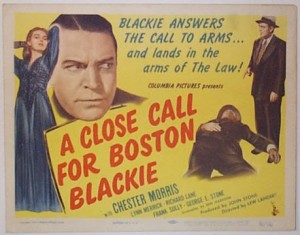 Boston Blackie is a fictional character created by author Jack Boyle (born before 1880; died circa 1928). Originally a jewel thief and safecracker in Boyle's novels, he became a detective in adaptations for films, radio and television—an "enemy to those who make him an enemy, friend to those who have no friend."
Jack Boyle's stories first appeared in the early 20th Century. "The Price of Principle" was a short story in the July 1914 issue of The American Magazine. Boyle's character also turned up in Cosmopolitan. In 1917, Redbook published the novelette "Boston Blackie's Mary," and the magazine brought the character back with "The Heart of the Lily" (February, 1921). Boyle's stories were collected in the book Boston Blackie (1919), which was reprinted in 1979 by Gregg Press. Boyle died in 1928.
The Boston Blackie radio series  began June 23, 1944, on NBC as a summer replacement for Amos 'n' Andy.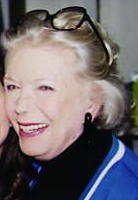 Sponsored by Rinso, the series continued until September 15 of that year. Unlike the concurrent films, Blackie had a steady romantic interest in the radio show: Lesley Woods appeared as Blackie's girlfriend Mary Wesley. Harlow Wilcox was the show's announcer.
On April 11, 1945, Richard Kollmar portrayed Blackie in a radio series syndicated by Frederick Ziv to Mutual and other network outlets. Over 200 episodes of this series were produced between 1944 and October 25, 1950. Other sponsors included Lifebuoy Soap, Champagne Velvet beer and R&H beer. While investigating mysteries, Blackie invaribly encountered harebrained Police Inspector Farraday (Maurice Tarplin) and always solved the mystery to Farraday's amazement.
Initially, friction surfaced in the relationship between Blackie and Farraday, but as the series continued, Farraday recognized Blackie's talents and requested assistance. Blackie dated Mary Wesley (Jan Miner), and for the first half of the series, his best pal Shorty was always on hand. The humorless Farraday was on the receiving end of Blackie's bad puns and word play.
You can listen to the adventures of Boston Blackie on the Crime, Suspense & Horror Channel from the ROK Classic Radio Old Time Radio Network.  Happy Listening 🙂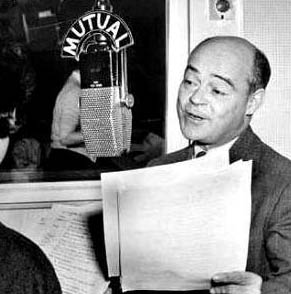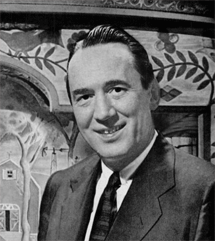 Boston Blackie – Friend to those who have no friend!