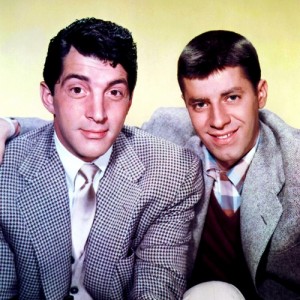 During the 1940s and early 1950s, Dean Martin and Jerry Lewis created some of the most memorable hilarity in the history of entertainment. The Martin and Lewis Radio Show aired on NBC Radio from 1949 through 1953.
The comedy team was comprised of singer Dean Martin (as the "straight man") and comedian Jerry Lewis as the comedic "foil". The pair first met in 1945; their debut as a duo occurred at Atlantic City's 500 Club on July 24/25, 1946.
Before they teamed up Martin was a nightclub singer, while Lewis did a comedy act in which he lip-synched to records. As a team, they worked in nightclubs, on radio and in television and films. In the team's later years, it was no longer billed by the two men's surnames alone, as in their early radio work, but by their full names: "Dean Martin and Jerry Lewis." These separate identities helped them launch successful solo careers after the team's dissolution.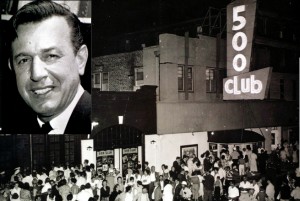 In 1945, Martin (born Dino Paul Crocetti in Steubenville, Ohio) met a young comic named Jerry Lewis (born Joseph Levitch, though some sources say Jerome Levitch; from Newark, N.J.) at the Glass Hat Club in New York, where both men were performing. Martin and Lewis' official debut together occurred at Atlantic City's 500 Club on July 24, 1946, and they were not a hit. The owner, Skinny D'Amato, warned them that if they didn't come up with a better act for their second show later that same night, they would be fired.
The Martin & Lewis Show from 7th July 1953, guest Marlene Dietrich
Huddling together out in the alley behind the club, Lewis and Martin agreed to go for broke, to throw out the pre-scripted gags that hadn't worked and to basically just improvise their way through the act. Dean sang some songs, and Jerry came out dressed as a busboy, dropping plates and more or less making a shambles of both Martin's performance and the club's sense of decorum. They did slapstick, reeled off old vaudeville jokes, and did whatever else popped into their heads at the moment. This time, the audience doubled over in laughter.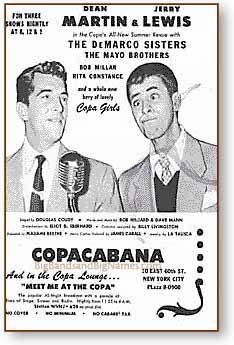 Their success at the 500 led to a series of well-paying engagements up and down the Eastern seaboard, culminating with a triumphant run at New York's Copacabana.
Club patrons were convulsed by the act, which consisted primarily of Lewis interrupting and heckling Martin while he was trying to sing, and ultimately the two of them chasing each other around the stage and having as much fun as possible. The secret, they have both said, is that they essentially ignored the audience and played to one another.
The Martin & Lewis Radio Show went on the air on April 3, 1949, initially without a sponsor. NBC was widely reported to be almost immediately uncomfortable with their contract, which obliged them to pay for the team's services whether they performed on-air, or not. As things developed, the team didn't premiere their NBC sustainer until April 3, 1949, essentially getting a free ride from NBC for the first quarter of 1949. The network spent $10,000 per show, paying each star $1,000 a week.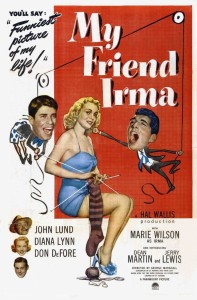 The popular My Friend, Irma film, released in 1949, only added to the buzz over the, by then, well established comics, irrespective of how well they'd been doing their over Radio appearances. Their relatively minor roles in the Irma film, made it even more difficult for NBC to negotiate for lower compensation for the team when their contract came up for renewal for 1950. After further difficulty finding a radio sponsor for their show, The Martin & Lewis Show went off the air after broadcasting what they thought was their last show on January 30, 1950. Though the first series of Martin and Lewis Show programs ended in January of 1950, by the fall of 1950, NBC had re-signed the pair for their Colgate Comedy Hour over Television. The comedy-variety format called for rotating hosts. Beginning that fall, Martin and Lewis began a series of rotating hosting appearances that eventually spanned five years–and 35 appearances.
In an attempt to capitalize on their renewed investment in the comics, NBC reintroduced The Dean Martin and Jerry Lewis Show radio program in the fall of 1951. The revised format returned to its roots, with the team performing sketches and Dean Martin performing one or two musical numbers before introducing their guest star for the remainder of the night's program. CBS was the first to begin airing both Television and Radio versions of their most popular programming. NBC and ABC soon followed suit and by 1952, American and Canadian audiences were enjoying both Radio and Television versions of many of their favourite programs.
The Martin and Lewis Show eventually ran for seventy-three of a contracted seventy-eight installments before being finally cancelled in July of 1953.
Martin & Lewis Show from the 19th October, 1951, guest Bing Crosby
Martin and Lewis were the hottest act in America during the early '50s, but the pace and the pressure took their toll. Dean usually had the thankless job of the straight man, and his singing had yet to develop into his unique style of his later years. The critics praised Lewis, and while they admitted that Martin was the best partner he could have, most of them claimed that Lewis was the real talent of the team and could succeed with anyone. It is worth noting that Lewis always praised his partner, and while he appreciated the attention he was getting, he has always said with complete conviction that the act would never have worked without Martin. In the book Dean & Me Lewis calls Martin one of the great comic geniuses of all time.
Dean Martin was becoming tired of scripts limiting him to colourless romantic leads while the stories centered on the antics of Jerry Lewis. Martin also noticed that Lewis was playing comedy scenes for pathos and greed and staging more of the action himself, having lost vision of what their comedy team-up was all about in the first place.
The last straw came when Look gave Martin and Lewis a cover photo—and cropped Martin out of the picture, humiliating Martin. Martin dutifully fulfilled the rest of his movie contract, but put less and less enthusiasm into his work and becoming increasingly disillusioned about his partnership with Lewis, leading to escalating arguments with Lewis. The two finally could not possibly work together, especially when Martin angrily told his partner that he was "nothing to me but a fucking dollar sign.
Jerry Lewis on his split from Dean Martin
Martin left the act at his first opportunity, on July 25, 1956, ten years to the day after their first official teaming.
While both Martin and Lewis went on to successful solo careers for years neither would comment on the split nor consider a reunion. They made occasional public appearances together between their breakup and 1961 but were not seen together until a surprise appearance by Martin on Lewis's Labour Day Muscular Dystrophy Telethon in 1976 arranged by Frank Sinatra
The pair eventually reconciled in the late 1980s after the death of Martin's son, Dean Paul Martin. The two men were seen together on stage in Las Vegas when Lewis pushed out Dean's birthday cake and sang "Happy Birthday" to him. In Lewis's 2005 book Dean and Me (A Love Story), Lewis wrote of his kinship with Martin, who died in 1995.
The Martin and Lewis Show