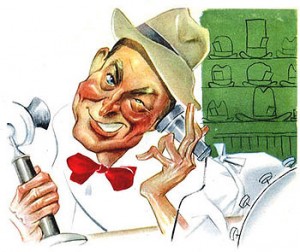 Duffy's Tavern was a popular American radio situation comedy which ran for a decade on several networks (CBS, 1941–1942; NBC-Blue Network, 1942–1944; NBC, 1944–1951), concluding with the December 28, 1951 broadcast.
The program often featured celebrity guest stars but always hooked them around the misadventures, get-rich-quick schemes and romantic missteps of the title establishment's malaprop-prone, metaphor-mixing manager, Archie, portrayed by Ed Gardner, the writer/actor who co-created the series.
In the familiar opening, "When Irish Eyes Are Smiling," performed either solo on an old-sounding piano or by a larger orchestra, was interrupted by the ring of a telephone and Gardner's New York  accent as he answered, "Hello, Duffy's Tavern, where the elite meet to eat. Archie the manager speakin'. Duffy ain't here—oh, hello, Duffy."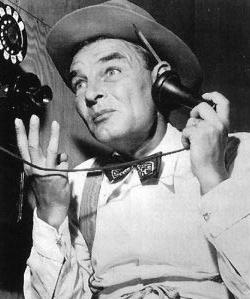 Owner Duffy was never heard over the telephone or seen (in the 1945 film adaptation or the short-lived 1954 TV series). Archie constantly bantered with Duffy's man-crazy daughter, Miss Duffy (played by several actresses, beginning with Gardner's real-life first wife, Shirley Booth), and especially with Clifton Finnegan (Charlie Cantor, later Sid Raymond), a likeable soul with several screws loose and a knack for falling for every other salesman's scam. Eddie the Waiter was played by Eddie Green; the pianist Fats Pichon took over the role after Green's death in 1950. Hoping to take advantage of the income tax free status of Puerto Rico for future projects, Gardner moved the radio show there in 1949.
The series featured many high-profile guest stars, including Fred Allen, Mel Allen, Nigel Bruce, Billie Burke, Bing Crosby, Bob Hope, Boris Karloff, Alan Ladd, Veronica Lake, Peter Lorre, Tony Martin, Marie McDonald, Gene Tierney, Arthur Treacher and Shelley Winters. As the series progressed, Archie slipped in and out of a variety of quixotic, self-imploding plotlines—from writing an opera to faking a fortune to marry an heiress. Such situations mattered less than did the clever depiction of earthbound-but-dreaming New York life and its individualistic, often bizarre characters.
Duffy's Tavern was Gardner's creation, and he oversaw its writing intently enough, drawing also on his earlier experience as a successful radio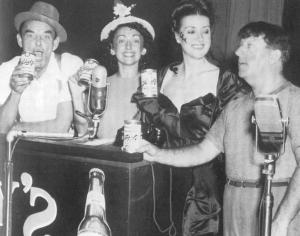 director. His directing credits included stints for George Burns and Gracie Allen, Ripley's Believe It or Not, and The Rudy Vallee Hour. Gardner also brought aboard several keen writing talents, including theatric humorist Abe Burrows (the show's co-creator and head writer for its first five years), future M*A*S*H writer Larry Gelbart and Dick Martin, who later was the co-host of television's groundbreaking Rowan and Martin's Laugh-In.
Early in the show's life, however, its name, Duffy's Tavern, was changed—first to Duffy's and, for four episodes, Duffy's Variety. A staffer for Bristol-Myers — whose Ipana toothpaste was the show's early sponsor—persuaded the company's publicity director to demand the name change because the original title promoted "the hobby of drinking" too much for certain sensibilities.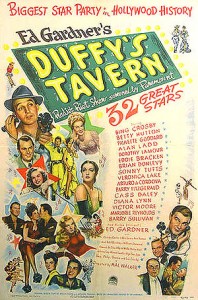 Bristol-Myers eventually admitted the staffer had little to go on other than a handful of protesting letters, and—to the delight of fans who never stopped using the original name, anyway—the original title was restored permanently. The name change was often subverted by the Armed Forces Radio Network. When the AFRN rebroadcast those episodes for U.S. servicemen during World War II, the announcer referred to Duffy's Tavern.
Listen to Duffy's Tavern on the American Comedy Channel from the ROK Classic Radio Old Time Radio Network!
Listen Now
Duffy's Tavern -Bond Drive with Boris Karloff (1943)
Syndicated in January 1955. The TV edition wasn't as successful as the long-running radio show.  It lasted just one season!