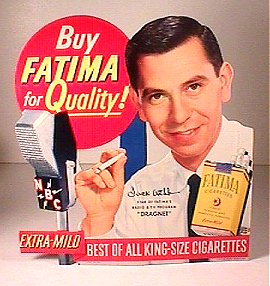 The Dragnet Radio Series starring Jack Webb started as a radio show in June 1949 and later transferred to television.
314 original Dragnet episodes were broadcast from 1949 through 1957. The series was broadcast on NBC and starred Jack Webb and Barton Yarborough as Friday's partner Sergeant Ben Romero.
The show takes its name from an actual police term, a "dragnet", meaning a system of coordinated measures for apprehending criminals or suspects.
Dragnet was perhaps the most famous and influential police procedural drama in media history. The series gave millions of audience members a feel for the boredom and drudgery, as well as the danger and heroism, of real-life police work. Dragnet earned praise for improving the public opinion of police officers.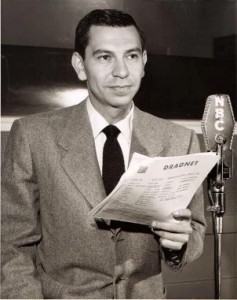 Actor and producer Jack Webb's aims in Dragnet were for realism and unpretentious acting. He achieved both goals, and Dragnet remains a key influence on subsequent police dramas in many media. The show's cultural impact is such that even after five decades, elements of Dragnet are known to those who have never seen or heard the program.
Dragnet debuted inauspiciously. The first several months were bumpy, as Webb and company worked out the program's format and eventually became comfortable with their characters (Friday was originally portrayed as more brash and forceful than his later usually relaxed demeanor). Gradually, Friday's deadpan, fast-talking persona emerged, described by John Dunning as "a cop's cop, tough but not hard, conservative but caring." (Dunning, 210) Friday's first partner was Sergeant Ben Romero, portrayed by Barton Yarborough, a longtime radio actor.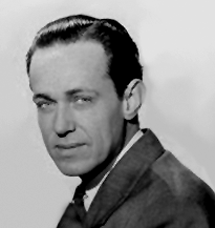 Raymond Burr was on board to play Chief of Detectives Ed Backstrand. When Dragnet hit its stride, it became one of radio's top-rated shows.
Webb insisted on realism in every aspect of the show. The dialogue was clipped, understated and sparse, influenced by the hard-boiled school of crime fiction. Scripts were fast moving but didn't seem rushed. Every aspect of police work was chronicled, step by step: From patrols and paperwork, to crime scene investigation, lab work and questioning witnesses or suspects.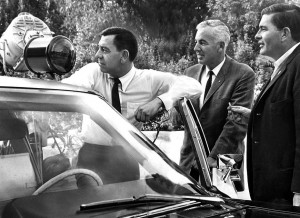 The detectives' personal lives were mentioned but rarely took center stage. (Friday was a bachelor who lived with his mother; Romero was a Mexican-American from Texas, was an ever-fretful husband and father.) "Underplaying is still acting", Webb told Time. "We try to make it as real as a guy pouring a cup of coffee." (Dunning, 209) Los Angeles police chiefs C.B. Horrall, William Worton, and (later) William Parker were credited as consultants, and many police officers were fans.
Though rather tame by modern standards, Dragnet—especially on the radio—handled controversial subjects such as sex crimes and drug addiction with unprecedented and even startling realism. In one such example, Dragnet broke one of the unspoken (and still rarely broached) taboos of popular entertainment in the episode ".22 Rifle for Christmas" which aired December 22, 1949 and was repeated a year later. The episode followed the search for two young boys, Stanley Johnstone and Stevie Morheim, only to discover Stevie had been accidentally killed while playing with a rifle that belonged to Stanley—who'd be receiving it as a Christmas present but opened the box early; Stanley finally told Friday that Stevie was running while holding the rifle when he tripped and fell, causing the gun to discharge, fatally wounding Morheim.
Jack Webb died at the age of 62 of a massive heart attack. He was buried with full honors by the LAPD, even though he had never been on the force.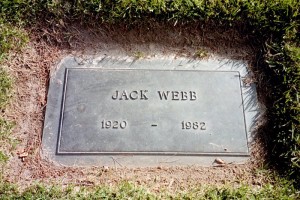 Listen out for Dragnet on Crime Central. Check the schedules for details.
Happy Listening 🙂
Jack Webb (Creator and Lead Actor)
[amazon_link asins='B00CQVD788,B00104AYQU,B00CIT11TK,B01BIBTGZE' template='ProductGrid' store='zonwebsea-21′ marketplace='UK' link_id='d7db99ac-aa0d-11e8-86ab-256a3b8b8b6b']
Dragnet Radio Series starring Jack Webb