1940s Music on 1940s Radio GB
The Best UK 1940s Radio Station with two thematic 40s Radio Broadcasts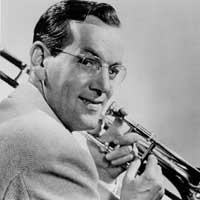 1940s music such as Swing, Big band, Jazz, Latin and Country music dominated and defined the decade's music. After World War II, the big band sounds of the earlier part of the decade has been gradually replaced by crooners and vocal pop.
Bing Crosby was the leading figure of the crooner sound as well as its most iconic, defining artist. By the 1940s, he was an entertainment superstar who mastered all of the major media formats of the day, movies, radio, and recorded music. Other popular singers of the day included Cab Calloway and Eddie Cantor.
Bandleaders such as the Dorsey Brothers often helped launch the careers of vocalists who went on to popularity as solo artists. Frank Sinatra rose to fame as a singer during this time. Sinatra's huge appeal to the "bobby soxers" revealed a whole new audience for popular music, which had generally appealed mainly to adults up to that time, making Sinatra the first teen idol.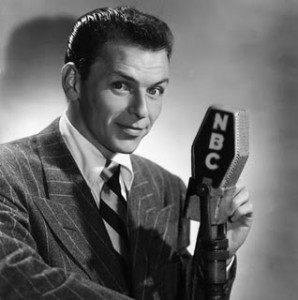 Sinatra's music mostly attracted young girls to his concerts. This image of a teen idol would also be seen with future artists such as Elvis Presley and The Beatles. Sinatra's massive popularity was also one of the reasons why the big band music declined in popularity; major record companies were looking for crooners and pop singers to attract a youth audience due to his success.
Frank Sinatra would go on to become one of the most successful artists of the 1940s and one of the best selling music artists of all time. Sinatra remained relevant through the 1950s and 60s, even with rock music being the dominant form of music in his later years. In the later decades, Sinatra's music would be mostly aimed at an older adult audience. Sinatra became one of the most respected and critically acclaimed music artists of all time.
In 1941 Les Paul built the first solid-body electric guitar.
In 1942 Bing Crosby recorded and released the single "White Christmas" with estimated sales in excess of 50 million copies worldwide.
In 1948 Columbia Records introduced the 33⅓ rpm LP ("long playing") record at New York City's Waldorf-Astoria Hotel.
In 1949 RCA Victor introduced the 45 rpm record, featuring 8 minutes of music.
1940s Radio Station broadcasting the very best in vintage radio WW2 war time melodies playing your favourite Big Band Swing and Jazz hits together with vintage news items, adverts and historical soundbites.
1940s Music on 1940s Radio Home Service