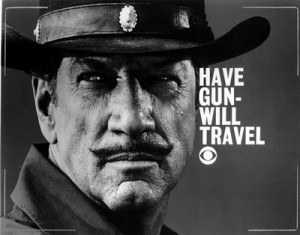 The Have Gun — Will Travel radio show broadcast 106 episodes on CBS between November 23, 1958, and November 22, 1960. It was one of the last radio dramas featuring continuing characters and the only significant American radio adaptation of a television series.
John Dehner (a regular on the radio series version of Gunsmoke) played Paladin, and Ben Wright usually (but not always) played Hey Boy.
Virginia Gregg played the role of Miss Wong, Hey Boy's girlfriend, before the television series began featuring the character of Hey Girl. Unlike the small-screen version, in this medium, there was usually a tag scene back at the Carlton at both the beginning and the end of the episode.

Have Gun – Will Travel – Lady Kane, The Silver Queen (59/05/17)
Initially, the episodes were adaptations of the television program as broadcast earlier the same week, but eventually, original stories were produced, including a finale ("Goodbye, Paladin") in which Paladin left San Francisco, apparently forever, to claim an inheritance back East. The radio version of the show was written by producer/writer Roy Winsor.

Have Gun – Will Travel – Bitter Vengeance (59/11/29)
HaveGunWillTravel591129054BitterVengeance
Stories revolved around gun-for-hire with principles, Paladin (his real name was never revealed). Though Paladin, played on the radio by John Dehner, preferred to try to work out problems without violence if possible, he worked for people who he felt were wronged and could pay. Occasionally, if he felt people who couldn't pay were in a really hard situation with bad guys, he worked for free. If, during the course of his work, he discovered his employer turned out to be shady, Paladin would turn on his employer.
Listen out for episodes of this fantastic show on Venture Radio
Happy Listening 🙂