I'm Sorry, I'll Read That Again (often abbreviated ISIRTA) was a BBC radio comedy programme which originated from the Cambridge University Footlights revue Cambridge Circus.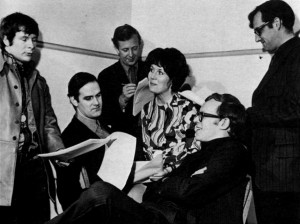 It was first broadcast on 3 April 1964 – the pilot programme having been broadcast on 30 December 1963 under the title "Cambridge Circus" – and the ninth series was transmitted in November and December 1973.
The title of the show comes from a sentence commonly used by BBC newsreaders following an on-air blooper: "I'm sorry, I'll read that again." Having the phrase used to recover from a mistake as the title of the show set the tone for the series as an irreverent and loosely-produced comedy show.
The Cast
Tim Brooke-Taylor –  who later became one of the three members of The Goodies.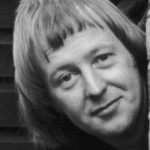 John Cleese –  member of Monty Python, star of Fawlty Towers and the film a Fish Called Wanda.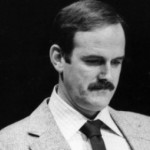 Graeme Garden – who also later became one of the three members of The Goodies.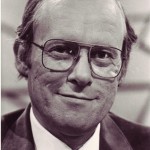 David Hatch – who went on to executive positions within the BBC, including the top position of Controller of BBC Radio 4.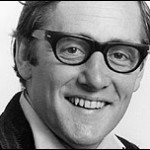 Jo Kendall  – being a radio actress in many straight dramas subsequently; also appeared in the equally popular radio comedy series which you can also hear on ROK Classic Radio called The Burkiss Way.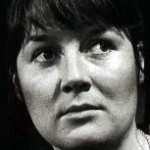 Bill Oddie  – later became one of the three members of The Goodies and has written many books, been an important TV presenter and spokesman on wildlife and ecological issues since the 1980s.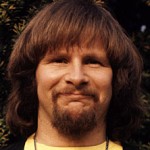 Humphrey Barclay was the producer of ISIRTA until 1968; from April that year the task was shared by David Hatch and Peter Titherage. In 1973 production was shared by David Hatch with John Cassels (for six episodes) and with Bob Oliver Rodgers (for two episodes).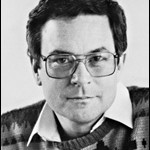 Music for the links and songs was provided by Dave Lee and his band.
Regular characters of the radio show
The Director General of the BBC
played by John Cleese. Continually sends memos to the ISIRTA team with the most ridiculous requests.
American Continuity Man
is a parody of Hughie Green usually played by Oddie, although on one occasion in the 3rd series, he's voiced by Garden.
Angus Prune
is a character adopted by Bill Oddie to sing the playoff.
Grimbling
voiced by Bill Oddie, Grimbling is a "dirty old man" who often appears as a groundsman, butler or some similar profession.
Lady Constance de Coverlet
is a ridiculous female character played by Tim Brooke-Taylor. Lady Constance is usually introduced by a statement along the lines of "what is that coming towards us? – It's huge – It's a rhinoceros!" – "No, it's me
Mr Arnold Totteridge
Another famous recurring character, Arnold Totteridge (played by Garden) is a doddering old man who gets lost in the middle of his sentences. He invariably begins with: "How do you do, do you do, do you do…do you?"
John and Mary
John Cleese and Jo Kendall frequently performed poignant – almost romantic – dialogues as the respectable but dysfunctional couple "John and Mary", a forerunner of the relationship between Basil and Sybil later televised in Fawlty Towers.
Masher Wilkins
A kind-hearted simpleton (played by John Cleese) who often appears as an unlikely villain or henchman. He is prone to malapropisms: "I've been trailing you through this impenetrable ferret– I mean 'forest'".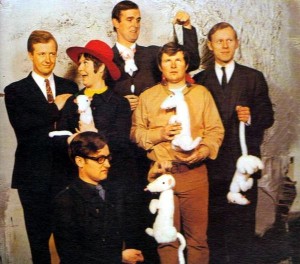 As well as obviously giving rise to The Goodies, ISIRTA shows the roots of Monty Python very clearly, with Cleese, Chapman and Eric Idle all regular script contributors. The show's creator Humphrey Barclay would also go on to create the TV show Do Not Adjust Your Set, featuring the rest of the Python team.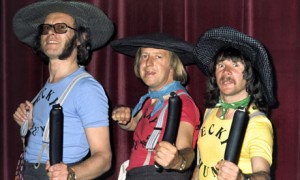 As with Round the Horne, the cast's adventures would sometimes be episodic with cliff-hanger endings each week as with The Curse of the Flying Wombat (3rd series), and Professor Prune And The Electric Time Trousers (6th series). Christmas specials normally included a spoof of a traditional pantomime (or several combined).
They had few qualms about the use of puns – old, strained or inventive – and included some jokes and catchphrases that would seem politically incorrect by the mid 1990s. Garden's impressions of the legendary rugby league commentator Eddie Waring and the popular Scottish TV presenter Fyfe Robertson, Oddie's frequent send-ups of the game-show host Hughie Green and Cleese's occasional but manic impressions of Patrick Moore (astronomer and broadcaster) built these people into eccentric celebrities in a way that the Mike Yarwood, Rory Bremner, Spitting Image and Dead Ringers programmes would do for other TV presenters with similar disrespect years later.
The show ended with an unchanging sign-off song which Bill Oddie performed as "Angus Prune" and was referred to by the announcer as "The Angus Prune Tune". Spoof dramas were billed as Prune Playhouse and many parodies of commercial radio were badged as Radio Prune, but the name Angus Prune seemed as random and incidental as the name Monty Python, which appeared several years later.
Although earlier BBC radio shows such as Much Binding in the Marsh, Take It From Here and Beyond Our Ken had conditioned listeners to a mix of music, sketches and jokes within a 30 minute show, and Round the Horne was also doing this, ISIRTA (as it was known to its friends) accelerated the transitions, and it certainly seemed more improvised. It was one of those programmes where you were unlikely to get all the jokes on first hearing so would have to listen to the scheduled repeat (or a tape recording) to discover what you had missed. It thus helped prepare the television audience for At Last the 1948 Show, Spike Milligan's Q series, Monty Python's Flying Circus and The Goodies. It also may have influenced other spoof-paced British radio programmes such as Radio Active, On the Hour, The Sunday Format, and The News Huddlines.
Several cast members have since appeared in the radio comedy panel game I'm Sorry I Haven't A Clue, which was originally a spinoff from ISIRTA but has outlived it by decades. Tim Brooke-Taylor and Graeme Garden continue as regulars on the show as of 2010.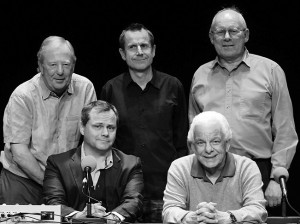 Listen out for ISIRTA on the British Comedy Channel from the ROK Classic Radio Old Time Radio Network 🙂
ISIRTA – I'm Sorry, I'll Read That Again!