Hancock's Half Hour was a BBC radio comedy, and later television comedy, series of the 1950s. It starred Tony Hancock, with Sid James; the radio version co-starring Hattie Jacques, Bill Kerr and Kenneth Williams.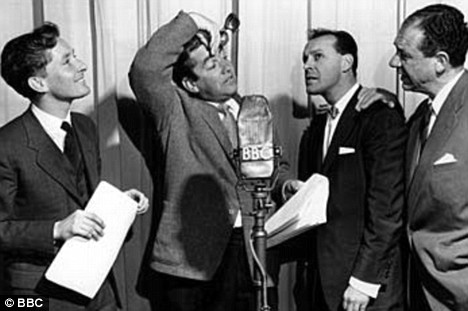 The series was written by Ray Galton and Alan Simpson and produced by Dennis Main Wilson for most of its run. After Main Wilson departed for his television career, his role was taken by Tom Ronald. The distinctive tuba-based theme tune was composed by Wally Stott.
Comedian Tony Hancock starred in the show, playing an exaggerated and much poorer version of his own character and lifestyle, as a down-at-heel comedian living at the dilapidated 23 Railway Cuttings in East Cheam.
The comedy actor Sid James played a criminally-inclined confidant of Hancock, who usually succeeded in conning him each week; Bill Kerr appeared as Hancock's Australian lodger, a character who became noticeably dim-witted in the later shows. A young Kenneth Williams, taking his first job in comedy, provided the funny voices for all the minor characters in the show each week. Moira Lister appeared in the first series, before being replaced by Andrée Melly for the next two; both women played love interest for Hancock's character, in essentially 'straight' roles. In the fourth and fifth series a comedienne, Hattie Jacques, provided comedy in the female role as the harridan Grizelda Pugh, who was Hancock's secretary and Sid's occasional girlfriend. By this time, Hancock's difficulties with women had become part of the characterisation.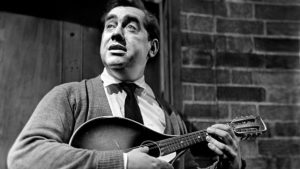 The series broke with the variety tradition which was then dominant in British radio comedy, highlighting a new genre: the sitcom or situation comedy.
Commissioning of series in the UK were then closer to the American practice with extensive runs not unknown, but in this case, with only two writers. Continuity in the idiom was yet to develop, and details changed to suit each episode. The domestic situation varied, but Hancock usually portrayed a 'resting' or hopeless down-at-heel actor and/or comedian (though some episodes showed him having runs of success, while some episodes depict him pursuing professional careers as fantasies), James was always on-the-fiddle in some way, Kerr gradually became dim and virtually unemployable (although he had started out as a fast-talking American-style Australian), and Hancock's 'secretary', Miss Pugh, had such a loose job description that in one celebrated episode she had cooked the Sunday lunch.
Listen to Hancock's Half Hour - Michelangelo 'Ancock
The lad takes up sculpting. But when he runs out of rocks, it's Sid to the rescue. Starring Tony Hancock, Sidney James, Bill Kerr, Kenneth Williams and Hattie Jacques.
Written by Ray Galton and Alan Simpson.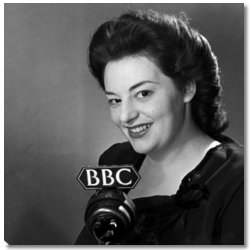 Hancock's character had various addresses, but by the third radio series he had arrived at 23 Railway Cuttings, East Cheam. Sometimes this was portrayed as a council house, but occasionally there was a private landlord. In a few early episodes Hancock owned the house, and later this became the norm. The house changed to accommodate the cast: in some episodes it appeared to be a two-bedroom terraced house, with Kerr as Hancock's lodger; but in series four and five it had at least three bedrooms, as Miss Pugh was also resident in some episodes. In others she 'came round' each day, presumably from her own domicile. Railway Cuttings and East Cheam were fictitious, but Cheam is a real town in Surrey, located to the west of Sutton.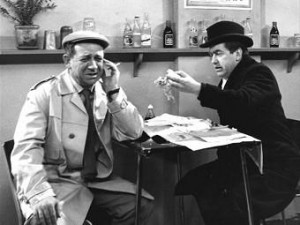 Most of the radio episodes were recorded between one day and three weeks in advance of broadcast, except for Series 6 which was mostly recorded during a three-week period in June 1959 in order to avoid clashing with the recording of Series 5 of the television show.
It should be noted that Galton and Simpson never gave any of their Hancock scripts, for Radio or Television, titles, this was usually left to the girl who filed the scripts at their office, she gave them names that were a reminder of what the script was about, so when Roger Wilmut came to write his book 'Tony Hancock – Artiste' (first published 1978) he took the liberty of inventing titles where necessary and these titles, a combination of the file names and Wilmut's own, have become the accepted titles ever since with the approval of Galton and Simpson and the BBC.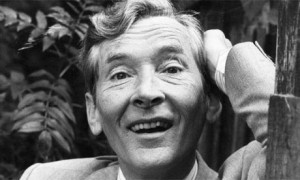 The regular cast members generally played "themselves" — that's to say, the characters were called by the actor's real name. However, there were exceptions:
* Kenneth Williams played a series of unnamed characters referred to in the scripts — but not on air — as "Snide", Edwardian Fred a criminal associate of Sid's and Hancock's Vicar as well as various other characters.
* Alan Simpson played an unnamed man who listened patiently to Hancock's long-winded stories in early episodes
* Hattie Jacques played Grizelda Pugh, Hancock's secretary.
Two wiped episodes of the radio series — "The Blackboard Jungle" (series 3) and "The New Secretary" (series 4) — were recovered in 2002 from off-air home recordings made by listener Vic Rogers.
Death
Tony Hancock committed suicide, by overdose, in Sydney on 24 June 1968, being found dead in his Latimer Road, Bellevue Hill apartment with an empty vodka bottle by his right hand and amphetamines by his left.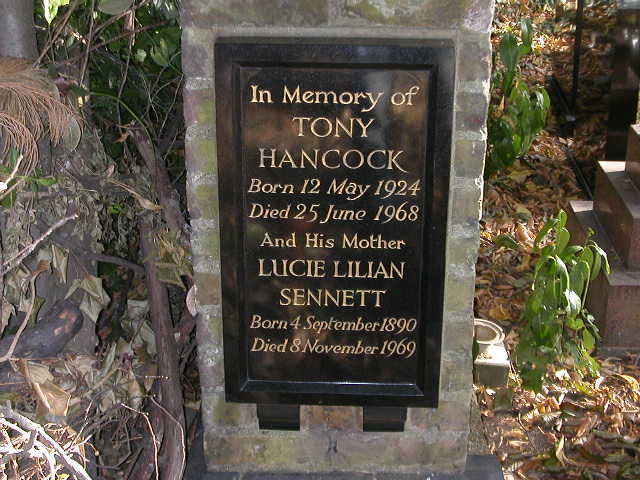 In one of his suicide notes he wrote: "Things just seemed to go too wrong too many times". His ashes were brought back to the UK in an Air France hold-all by satirist Willie Rushton and in deference to his fame and knowing love of cricket, his ashes traveled back in the first class cabin.
The Blood Donor: First transmitted on 23 June 1961. Archive status, B & W Tele-recording. Until the BBC decide to re-scan the 16mm films this motion interpolated file is all we have!
Tony Hancock – Hancock's Half Hour