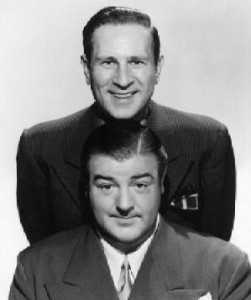 William (Bud) Abbott and Lou Costello  performed together as Abbott and Costello, an American comedy duo whose work on stage, radio, film and television made them the most popular comedy team during the 1940s, as well as a top ten box office draw for a full decade (1942—1952).
The team's first known radio appearance was on The Kate Smith Hour in February, 1938. Initially, the similarities between their voices made it difficult for listeners (as opposed to stage audiences) to tell them apart due to their rapid-fire repartee.
The problem was solved by having Costello affect a high-pitched childish voice. "Who's on First?" was first performed for a national radio audience the following month.
They stayed on the program as regulars for two years, while landing roles in a Broadway revue, "The Streets of Paris", in 1939.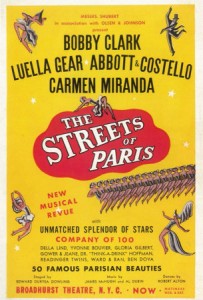 In 1940 they were signed by Universal Studios for the film One Night in the Tropics. Cast in supporting roles, they stole the show with several classic routines, including "Who's on First?" The same year they were a summer replacement on radio for Fred Allen. Two years later, they had their own NBC show.
After working as Allen's summer replacement, Abbott and Costello joined Edgar Bergen and Charlie McCarthy on The Chase and Sanborn Hour in 1941, while two of their films (Buck Privates and Hold That Ghost) were adapted for Lux Radio Theater. They launched their own weekly show October 8, 1942, sponsored by Camel cigarettes.
The Abbott and Costello Show mixed comedy with musical interludes (by vocalists such as Connie Haines, Ashley Eustis, the Delta Rhythm Boys, Skinnay Ennis, and the Les Baxter Singers). Regulars and semi-regulars on the show included Artie Auerbach ("Mr. Kitzel"), Elvia Allman, Iris Adrian, Mel Blanc, Wally Brown, Sharon Douglas, Verna Felton, Sidney Fields, Frank Nelson, Martha Wentworth, and Benay Venuta. Ken Niles was the show's longtime announcer, doubling as an exasperated foil to Abbott and Costello's mishaps (and often fuming in character as Costello routinely insulted his on-air wife).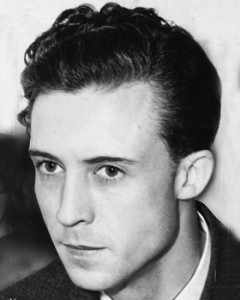 Niles was succeeded by Michael Roy, with announcing chores also handled over the years by Frank Bingman and Jim Doyle. The show went through several orchestras during its radio life, including those of Ennis, Charles Hoff, Matty Matlock, Matty Malneck, Jack Meakin, Will Osborne, Fred Rich, Leith Stevens, and Peter van Steeden. The show's writers included Howard Harris, Hal Fimberg, Parke Levy, Don Prindle, Eddie Cherkose (later known as Eddie Maxwell), Leonard B. Stern, Martin Ragaway, Paul Conlan, and Eddie Forman, as well as producer Martin Gosch. Sound effects were handled primarily by Floyd Caton.
In 1947 Abbott and Costello moved the show to ABC (the former NBC Blue Network). During their time on ABC, the duo also hosted a 30-minute children's radio program (The Abbott and Costello Children's Show), which aired Saturday mornings, featuring child vocalist Anna Mae Slaughter and child announcer Johnny McGovern.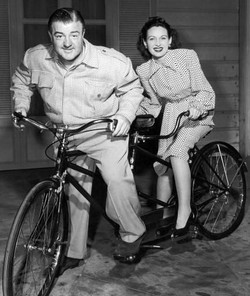 Both Abbott and Costello met and married women they knew in burlesque. Bud Abbott married Betty Smith in 1918, and Lou Costello married Anne Battler in 1934. The Costellos had four children; the Abbotts adopted two.
Abbott and Costello faced personal demons at times. Both were inveterate gamblers and had serious health problems. Abbott suffered from epilepsy and turned to alcohol for pain management. Costello had occasional, near-fatal bouts with rheumatic fever. On November 4, 1943, the same day that Costello returned to radio after a one year layoff due to his illness with rheumatic fever, his infant son "Butch" (born November 6, 1942) died in an accidental drowning in the family's swimming pool.
During 1945, a rift developed when Abbott hired a domestic servant who had been fired by Costello. Angered by Abbott's decision, Costello refused to speak to his partner except when performing. The team's films of 1946 reflect the split, with the comedians appearing separately in character roles. Abbott resolved the rift in 1947 when he volunteered to help with Costello's pet charity, a foundation for underprivileged children.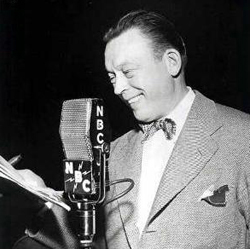 In the 1950s Abbott and Costello's popularity waned as their place as filmdom's hottest comedy team was taken by Dean Martin and Jerry Lewis.  Universal dropped the comedy team in 1955, and after one more independent film, Bud Abbott retired from performing.
In 1956, the Internal Revenue Service charged them for back taxes, forcing them to sell their homes and most of their assets, including their film rights. In 1957 they formally dissolved their partnership.
Lou Costello made about ten solo appearances on The Steve Allen Show and headlined in Las Vegas. He appeared in episodes of GE Theater and Wagon Train. On March 3, 1959, shortly after making his lone solo film, The 30 Foot Bride of Candy Rock, Lou Costello died of a heart attack just short of his 53rd birthday.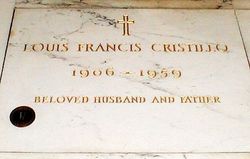 A depressed Bud Abbott attempted a comeback in 1960, teaming with Candy Candido. Although the new act received good reviews, Bud quit, saying, "No one could ever live up to Lou."
Abbott made a solo appearance on an episode of GE Theater in 1961. In 1966 Bud voiced his character in a series of 156 five-minute Abbott and Costello cartoons made by Hanna-Barbera. Lou's character was voiced by Stan Irwin. Bud Abbott died of cancer on April 24, 1974.

Lou Joins the New York Yankees